_2023 Detailed Agenda – 13th Annual CAES-SCAE Canadian Agri-food Policy Conference
DISRUPTED MARKETS: IMPLICATIONS FOR CANADA AND THE REST OF THE WORLD
Click here to open a PDF version of the Program Agenda
CLICK HERE TO SEE SPEAKER BIOS
January 26 – 28, 2023
It is difficult to deny that current agriculture and food markets are being challenged.  In this conference we attempt to address some of the issues that are disrupting agriculture and food markets, in particular the issues that will likely need to be addressed with future policy attention. One of the complexities in dealing with disruption is the interface between scientific research and policy makings. To that end this conference includes many different scientists with their own approaches to identifying critical issues. Hopefully this generates significant opportunity for discussion about policy implications.
January 26, 2023
Session 1  9:00 – 10:45
Global Disruptions (Chair: Getu Hailu, University of Guelph) The world is facing a period of unprecedented change and it is important that we can identify the challenges at a global level that will require major attention and policy adjustments
Presentations:  War in Ukraine and Disrupted Markets;   Prof David Ubilava, University of Sydney
Water insecurity: an increasing challenge to food security and health; Prof Hugo Melgar-Quiñonez, McGill University
Implication of imposing fertilizer limitations on energy, agriculture, and land systems; Dr. Eva Sinha, Pacific Northwest National Laboratory
Refreshment Break 10:45 – 11:00 am
Session 2   11:00 – 12:00
Energy  Markets   (Chair:   Xiaoli Fan, University of Alberta)
Presentations:  A New Era with Hydrogen and Future Directions for Better Environment and Sustainable Development; Prof Ibrahim Dincer, Ontario Tech University
The Resilience of Biofuel Supply: Feedstock Availability, Financial Viability, and Market Competition;  Prof Feng Qiu, University of Alberta
Lunch Break  12:00 – 1:00 pm
Session 3 1:00 – 3:00
Inflation, Trends and Implications  (Chair:  Yu Na Lee, University of Guelph)
Presentations:  The Rise and Fall of Inflation in Canada;  Prof Trevor Tombe, University of Calgary
Inflation Trends for Crops;  Dr J. P. Gervais, FCC-FAC
Insights on Meat-Livestock Inflation Trends, Extrapolation from the U.S.;  Prof Glynn Tonsor, Kansas State University
Fertilizer Challenges: – Karen Proud, President, Fertilizer Canada
Session 4 3:15 – 5:00
Dealing with Climate Change (Chair: Warren Goodlet, Director General, Agriculture and Agri-food Canada)
Presentations:   Protein as a common denominator and boundary condition in modelling the carbon footprints of livestock commodities– Jim Dyer, Ag-environmental Consultant
Nature-based Solutions and Multi-Functional Green Infrastructure– Dr. Vidya Anderson, University of Toronto Scarborough, Climate Lab
Poster Session  5:00 – 6:30 pm : See Poster List Following This Main Program
January 27, 2023
Session 5   9 – 10 am    (Chair : Alexandra​ Frias Luna, Dairy Farmers of Canada)
Bracing for Turbulence:   Todd Hirsch, Todd Hirsch Consulting Inc.
As the global economy hurls towards recession in 2023, industries and companies around the world are bracing for turbulent times. Geopolitics has replaced the pandemic as the biggest threat to the economy. And Canada is not exempt: spiking interest rates, crushing inflation and sagging real estate markets are weighing down consumer and business sentiments. In this turbulent environment, what is likely to happen? And what can businesses and industries do to prepare?
Refreshment Break  10:00 – 10:15 am
Session 6  10:15 – 11:00 am
Food Security Challenges  (Chair: Solomon Aklilu, AAFC)
Presentations: Food production and security: policies for an uncertain future; Tyler McCann, Managing Director, Canadian Agri-food Policy Institute
Climate Policy, Public Research and Food Security; Prof Richard Gray, University of Saskatchewan
Session 7  11:00 – 12:15 pm
Agricultural Challenges Going Forward  (Chair: Alfons Weersink, University of Guelph)
Animal disease and antimicrobial resistance;  Prof Herman Barkema, University of Calgary
Fertilizer-Related Emissions and Their Role in Reaching Net-Zero GHG Agriculture; Prof Claudia Wagner-Riddle, University of Guelph
Poster Competitors Presentations  12:15 – 12:30 pm  (Chair: Getu Hailu)
Conference Wrap Up  12:30 pm
Lunch Break  12:30 – 1:00 pm
AFTERNOON ACTIVITIES ARE OPEN TO ALL ATTENDEES
Friday Jan 27, Afternoon
Graduate Student Colloquium  1:00 – 2:25 pm
Food and Agriculture Policy Post-Graduation
The importance of understanding agriculture policy in all types of careers
Organizer: Amanda Norris
The Graduate Student Colloquium at this year's CAES Policy Conference will dive into the role of agriculture and food policy in non-government jobs. The session will explore a brief history of agriculture and food policy, followed up with how these policies might be relevant in careers in the private sector, non-profit organizations, academia, or primary agriculture. Agriculture and food policy influence how food is grown, transported, traded, processed, and sold. No matter the career path you choose within the sector, an understanding of agriculture and agri-food policy in Canada will be beneficial.
Refreshment Break  2:25 pm – 2:30 pm 
Methods Session 2:30 to 4:00 pm
Agent-Based Modelling for Agricultural Policy Decision-Making
Organizer/Chair –  Xiaoli Fan, University of Alberta
An agent-based model (ABM) is a computational simulation model that captures the behaviors of the system's autonomous agents and their interactions with each other. ABMs have advantages over other modeling techniques where the population is heterogeneous, the interactions between the agents are complex, or when the agents exhibit complex behavior, including learning and adaptation. What are the applications of applying agent-based models in agriculture and food systems? What are the challenges and opportunities? How can ABMs be used to support agriculture and food policy decision making?
ABM Applications in Canadian Agriculture and Food Systems – James Nolan, University of Saskatchewan
Individual environmental preferences and aggregate outcomes: an empirical agent-based model of forest landowner invasive species control – Shadi Atallah, University of Illinois Urbana Champaign.
Cost-Effectiveness of Bovine Respiratory Disease Management Strategies in Beef Feedlots: An Agent-based Model –  Xiaoli Fan, University of Alberta
JAMES RUDE Memorial Workshop
January 28, 2023
Organized by Derek Brewin, University of Manitoba  and Alan Ker, Michigan State University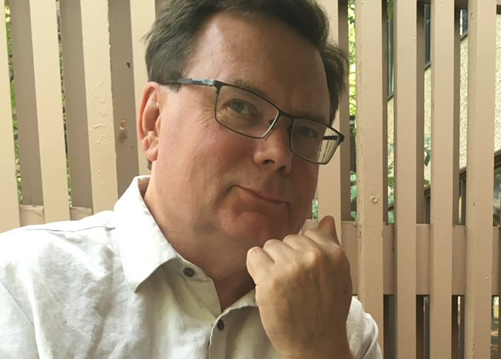 Dr. James Rude, Associate Professor in the Department of Resource Economics and Environmental Sociology passed away on May 6, 2022.
James completed his PhD in Agricultural Economics at the University of Guelph in 1993 (BA 1979, MA 1982 University of Saskatchewan). James worked at Agriculture and Agrifood Canada from 1992 to 2001 although he was located in the Department of Ag Econ at the University of Saskatchewan for the last two of those years and spent a year, 1996-1997, as a visiting researcher at Iowa State University. He took faculty positions at the University of Manitoba in 2002 and at the University of Alberta in 2007.
In terms of agricultural policy, James provided advice to the Canadian Senate, as well as to the OECD, the Farm Foundation in the US and the Canadian Agri-Policy Institute. He also served on the executive committees of the Canadian Trade Policy Network, and the North American Agrifood Market Integration Consortium. He was a long-standing active participant in the International Agricultural Trade Research Consortium.
James was also a longstanding regular contributor to the Canadian Journal of Agricultural Economics, to the CAES-SCAE Annual Agrifood Policy conference and to the CAES-SCAE Annual conference.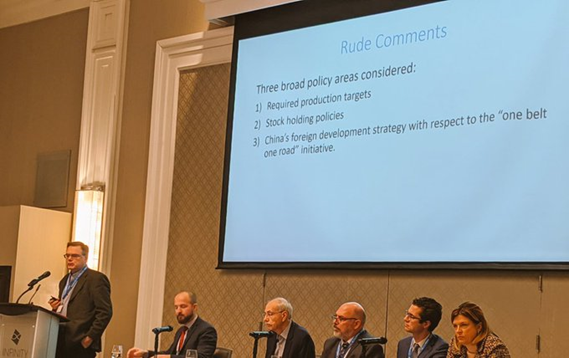 James Rude Memorial Workshop Program
8:30-8:45 Welcome and Introduction of Peggy Boss, Tribute to James Rude (Alan Ker, Michigan State University)
8:45-9:45 Session 1. Past Student Tributes to James Rude
Speaker 1: Scott Pellow (Agriculture and Agri-Food Canada)
Speaker 2: Curtis Boyd (Agriculture Financial Services Corporation)
Refreshment Break 9:45-10:00
10:00-11:30 Session 2: Work in Honor of James Rude (moderator Derek Brewin)
Tristian Skolrud (University of Saskatchewan) "The Relationship Between BRM and Agricultural Green house Gas Mitigation"
Jim Vercammen (University of British Columbia) "A Random Walk for U.S. Agricultural Total Factor Productivity"
Bruno Larue (Laval University) "Climate Shocks, Production, and Trade in Apples"
Lunch Break 11:30-1:00
1:00-2:00 Session 3. Issues in Rent Seeking in Honour of James Rude  (moderator Ryan Cardwell)
Derek Brewin (University of Manitoba) "Twenty years after its inception is AgriStability still Green Box?"
Bruno Wichmann (University of Alberta) "Rent Seeking in Conservation Auctions with Background Risk"
2:00-3:00 Session 4. Issues in Supply Management in Honour of James Rude (moderator Derek Brewin)
K. Alek Schaefer (Oklahoma State University) "Trade Impacts of Canadian Dairy Quota Allocation Procedures under USMCA"
Ryan Cardwell (University of Manitoba) "Modeling the Effects of Trade Agreements: Implications for Rent Seeking and Policy Making"
3:00-3:05 Closing Remarks – Ryan Cardwell (University of Manitoba).
Posters Being Presented Thursday Jan 26, 2023  5:00 pm
| | | | | |
| --- | --- | --- | --- | --- |
| Presenting Author | Co-Author(s) | Presenting | Institution | Title |
| Aaron Lorenz | Yu Na Lee | In person | U of Guelph | On Rice and Weddings: an analysis of Indonesia's Raskin Program on Girls Age of Marriage |
| Jiansong Xu | Tristan Skolrud | In person | U of Sask. | An Assessment of Nitrogen Use and N2O Emissions from Semidwarf Wheat |
| Lampros Nikolaos Maros | Richard S. Gray | In person | U of Sask. | The Value of FHB Resistance and Other Varietal Characteristics to Saskatchewan Hard Red Spring Wheat Producers |
| Katherine Rogers | Ellen Goddard & John Parkins | In person | U of Alberta | Evaluating Consumer Behaviour, Attitudes, and Emotions Surrounding Environmental Aspects of the Canadian Animal and Plant-based Dairy Industries |
| Michelle Ross | None | In person | U of Sask. | What is the optimal rate and nitrous oxide mitigation policy for nitrogen application in Saskatchewan canola? |
| William (Will) Holowaychuk | Ellen Goddard | In person | U of Alberta | Modelling Canadian Nitrogen Fertilizer Price |
| Dislène Sossou | Alphonse Singbo | In person | Laval Uni. | Spot-futures price adjustments in Quebec grain markets |
| Jourdain Lokossou | Alphonse Singbo | In person | Laval Uni. | Taking a new look at hedging strategies in Quebec hog industry under public farm income insurance programs |
| | | | | |
| Andu Berha | None | Virtually | U of Alberta | Ukraine-Russia conflict and wheat production, consumption and export in Canada: exploring potential impacts and pathways |
| Huan Chen | Xiaoli Fan & Yuehua Zhang | Virtually | U of A/Zhejiang University | Driving factors of antimicrobial use in pig farms in China |
| Blend Frangu | Peter Slade | Virtually | U of Sask. | Dynamics of crop choice and rotations in view of high prices |
| Amy Xu | Feng Qiu & Marty Luckert | Virtually | U of Alberta | Modelling Variability in Biomass Feedstock Supplies with Limited High-Dimensional Data: An Application of Hierarchical Data Clustering |
https://caes-scae.ca/wp-content/uploads/2018/12/CAES-logo-compressed-1.png
0
0
jenn
https://caes-scae.ca/wp-content/uploads/2018/12/CAES-logo-compressed-1.png
jenn
2023-10-02 17:39:21
2023-10-02 18:12:17
_2023 Detailed Agenda – 13th Annual CAES-SCAE Canadian Agri-food Policy Conference